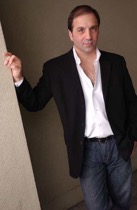 Jazz dance and musical theatre dance choreographer Bob Boross melds the integrity of classic theatre dance with the energy and appeal of today's contemporary dance styles. Bob's jazz and musical theatre choreography has been commissioned by theatre groups and dance companies from New York to Los Angeles, and throughout Europe and Scandinavia.
Electric…elegant…subtle…and thought provoking
- Bob's work never fails to express dance as both art and entertainment.
Bob also is a master teacher of jazz dance, tap dance, and musical theatre dance styles. He specializes in the freestyle jazz dance technique of jazz dance legend Matt Mattox, and the clear, off of the heels tap dance work of Paul Draper and Bob Audy. Bob's musical theatre choreography is highly influenced by the masters - Bob Fosse, Jerome Robbins, Michael Bennett.
Bob's impact on the dance world is visible in coverage by major dance media magazines. In 2016 Bob has been featured in
Dance Studio Life
and twice in
Dance Teacher
magazine.
Bob is based in Bethesda, Maryland and works often in Washington DC and New York City. He is available to choreograph or teach for your dance company, theatre group, or dance studio. Contact Bob at the Contact Form
here
.
Read this feature article about Bob in Dance Teacher magazine!

Upcoming Master Classes!

Joy of Motion Dance Center - Bethesda, MD
Broadway Jazz Dance Workshop
Dance to holiday themed music like Mariah Carey and get excited about a new year kicked off in an invigorating dance workshop!
Friday, Dec. 30, 2016

Studio to Stage - "That's Showbiz!!"
Have you ever dreamed of starring on Broadway? Join the cast of "That's Showbiz!" and make your dreams come true!
You will work with choreographer Bob Boross for nine weeks to learn one or two show-stopping pieces to perform
for your friends, family, and other patrons! This collaborative showcase culminates in a fully produced concert
at Joy of Motion's Jack Guidone Theater.
January 6 - March 9, 2016

Ongoing Classes!

Open classes for adults:
Adv Beginner Broadway Tap Dance - 6:30-7:30pm, Joy of Motion Dance Center, Bethesda, MD
Adv Beg Broadway Jazz Dance - 7:30-9pm, Joy of Motion Dance Center, Bethesda, MD.
Intermediate Broadway Jazz Dance - 10:30am-12pm, Joy of Motion Dance Center, Friendship Heights, MD.
Adv Beginner Broadway Tap Dance - 12-1pm, Joy of Motion Dance Center, Friendship Heights, MD.

University Classes:
Beginning Tap Dance - T/Fr, 9:40-11am, American University, Washington DC.

Childrens/Teen Classes:
Jazz Dance - Thursdays 7-8:30pm, Joy of Motion Dance Center, Bethesda, MD.
Horton Modern Dance - Thursdays 3:30-5pm - CityDance Conservatory, Bethesda, MD
Jazz Dance, Tap Dance, Adv Jazz Dance - Mondays 4:30-8:15pm. Cityballet School, Hagerstown, MD.