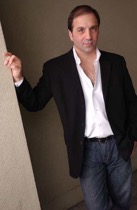 Jazz dance and musical theatre dance choreographer Bob Boross melds the integrity of classic theatre dance with the energy and appeal of today's contemporary dance styles. Bob's jazz and musical theatre choreography has been commissioned by theatre groups and dance companies from New York to Los Angeles, and throughout Europe and Scandinavia.
Electric…elegant…subtle…and thought provoking
- Bob's work never fails to express dance as both art and entertainment.
Bob also is a master teacher of jazz dance, tap dance, and musical theatre dance styles. He specializes in the freestyle jazz dance technique of jazz dance legend Matt Mattox, and the clear, off of the heels tap dance work of Paul Draper and Bob Audy. Bob's musical theatre choreography is highly influenced by the masters - Bob Fosse, Jerome Robbins, Michael Bennett.
Bob's impact on the dance world is visible in coverage by major dance media magazines. In 2016 Bob has been featured in
Dance Studio Life
and twice in
Dance Teacher
magazine.
Bob is based in Virginia and works often in Washington DC and New York City. He is available to choreograph or teach for your dance company, theatre group, or dance studio. Contact Bob by clicking on the "contact me" link at the bottom of each page, or via email at bobboross@hotmail.com.